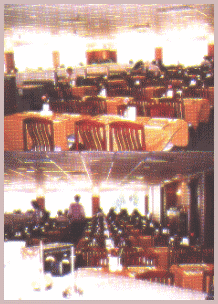 帝豪餐廳現代化歐陸式設計,裝修高貴 雅逸,瑰麗堂煌,招乎周到及生活時尚的 飲食享受……。
食譜全部由名廚精心安排,除應有之早餐 、午餐及精心配製之各款套餐外,更添設 琳琳總總的各式馬來美食。
歡迎閣下蒞臨體驗與眾不同的生活情調……。

In our splendid European-style Emperor Restaurant,you will enjoy having delicious food and drinks in the comfortable environment and being served by our friendly and well-trained staff.
All courses are specially designed by our great chiefs.Besides providing you with regular breakfast,lunch, and set meals,you can also select from a variety of popular Malaysian food.
Come and experience yourself in our extraordinary reataurant.